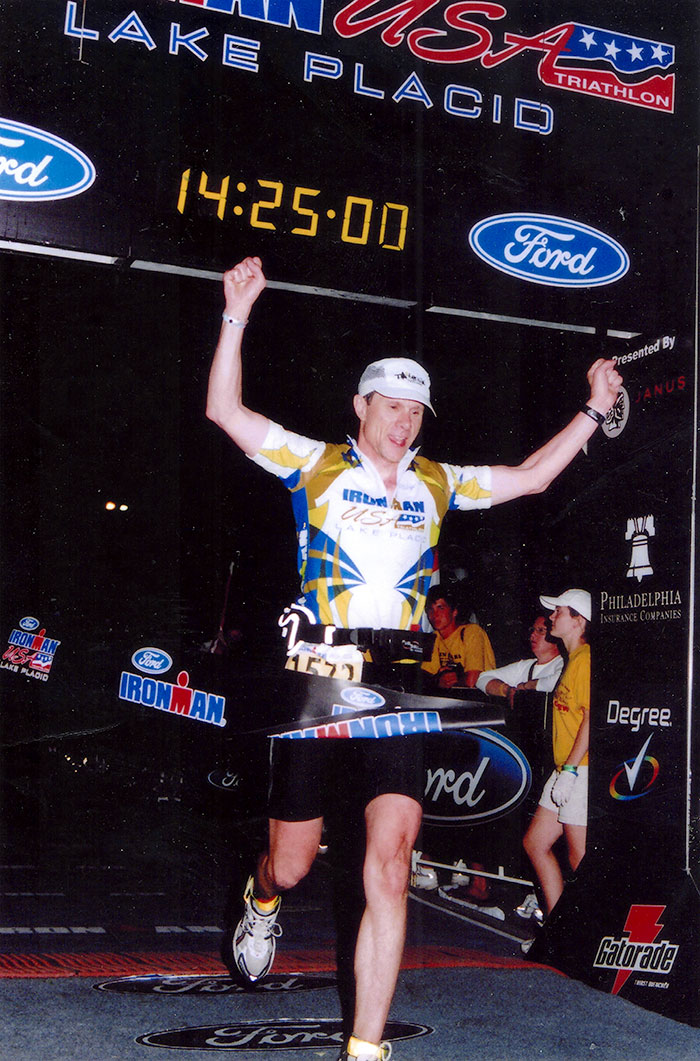 Interview – October 2021.
Tell us a little about you. Where you live, what your background is. What (if) you do in addition to being a Certified Instructor.
Originally from upstate NY, I have lived in Brookline (Boston area) for 40 years. I have been active in the real estate industry for most of that time working in property management and development. I have had my own real estate consulting practice for over 10 years. I have also chaired and served on several non-profit religious, real estate, condominium, and educational boards. Don't tell anyone, but I am also a licensed, but non-practicing attorney.
How did you start running?
It just came naturally to me at a very young age. I remember running home from grade school through the woods and roads and the feeling of freedom it gave me. I started running competitively in 7th grade.
When and how did ChiRunning come into your life? (The short story)
I started thinking of competing in the 2020 Lake Placid Ironman to celebrate my 65th birthday, a race I completed 15 years earlier for my 50th birthday. I've had a series of overuse and impact type injuries every time I increased speed or distance that I needed to overcome to train properly. I don't recall how I "found" ChiRunning, but I bought the book and DVD a few years ago, then attended one of Danny Dryer's full-day classes. Very, very slowly I started to increase distance without injury giving me confidence that I could complete the marathon portion of the Ironman, which of course was canceled that year.
In what ways has Chi changed your perception of and success in running?
Success has been redefined for me to now mean running totally relaxed without pain or injury. Sure, I still enjoy the podium, but the liberating journey of joy and mindfulness along the way is what really makes it worthwhile.
What do you think is the biggest misconception of ChiRunning?
Not sure if it is so much of a misconception as simply a lack of knowledge of what it is. Many novices, and even experienced runners, never pay close attention to their technique – alignment, cadence, stride length, pelvic rotation, arm swing, etc. – nor their relaxation and mindfulness. Awareness and slight adjustments can make all the difference.
What motivates you to run?
No motivation is needed. I think it is in my DNA to run for the joy, freedom, and health of it. Since I started the practice, I have now become an avid ChiWalker in addition to my running. Walking is a whole new world to me. Who knew?
What achievements are you most proud of?
If you mean running achievements, I am proud of them all as we should all be. Certainly, I can count running my fastest mile, first-place finishes, qualifying marathon times, etc., as proud moments, but each race, each run, each workout brings a special smile. Lake Placid Ironman admittedly is up there as is becoming a Certified ChiRunning and ChiWallking Instructor.
What led you to become an instructor?
After years of running injuries and never-ending trips to orthopedic doctors, physical therapists, and other practitioners (as well as the MRI's and other tests that followed), I found ChiRunning®. I was always looking for "something" that would both fulfill my passion and enable me to "give back" at the same time. I vowed that if I were able to increase mileage and speed without injury, I would become an instructor – Mission Accomplished. Being a new instructor during this past year of uncertainty has provided challenges and opportunities. I've taken advantage of the opportunities by donating ½ day workshops to a few non-profit organizations during their fundraising events and offering a virtual 5-week ChiWalking workshop to another organization.
Why do you enjoy being an instructor, and how has it affected your life?
I've been passionate about running for most of my life. It wasn't until I discovered ChiRunning that I was able to really appreciate running and walking as a complete holistic practice that could not only bring me to a higher level of mindfulness and fitness but to be able to share this gift with others.
What does your average week look like, run-wise?
I rarely run more than 3 days/week including long run, interval, and tempo. These are topped with 2-3 bike workouts; 2-3 swim workouts, and some strength training each week. Intensity and duration change seasonally.
What other forms of exercise do you practice to compliment ChiRunning?
As a triathlete, I swim in a master's program (proud long-standing member of the slowest swimmer club); bike, walk, strength train. I used to ski and golf and will probably return to the latter at some point.
Advice for people new to ChiRunning?
ChiRunning is a journey. Enjoy it. I tell my new students to practice one or two focuses at a time and when all else fails simply think alignment and relaxation.
Short answer! Okay, GO.
Most memorable race: Lake Placid Ironman – misplaced my goggles before the opening swim, split open my plastic transition bags, left my race fuel at the hotel, had 3 flats and a broken spindle on the bike ride, and stomach cramps for most of the run – but managed to finish at the famous 1980 Olympic Oval with a smile. It was especially sweet as my wife and I were lucky enough to be spectators at that Olympics, 25 years earlier.
Ideal weather for running: Early spring and early fall.
Focus that currently dominates your running: Probably relaxed ankle and foot strike, although each run is an adventure where different focuses can dominate at any time.
Favorite place to run: Back roads of Brookline and through Boston's Emerald Necklace
Go-to before race food: Energy bar, bagel.
Celebratory food after a race: Whatever is on the finish line table
Upcoming race/goal: Lake Placid 2022 (after 2020 and 2021 cancelations and deferrals, hopefully 3x a charm.)
Run with or without phone/music: No phone or music. If out on a short, slow run or walk sometimes radio talk show or podcast.
Repeat on your playlist: Next question
If I didn't… try, I would never know the value of failure or success.
I can't run without… some body looseners, which definitely have changed over time.
My first race was… back in Junior HS and I have absolutely no recollection of it.
My current favorite shoe to run in is… Saucony Kinvara 12, although I am experimenting with the Altra Escalante and Rivera.
My most difficult run ever was… Boston Marathon 2008; didn't seem difficult until I crossed the finish line and was wheeled off into a medical tent with several liters of IV fluid, oxygen, uncontrollable spasms in both legs, and vitals that they would not tell me. Still made the plane that night to take our daughter to FL for college.
I've run… about 5 marathons and hundreds of races of all distances including triathlons
The longest distance I've ran…. Marathons in (FL, NY, MA)